Red Lodge residents express fears of Bakken-like atmosphere – Billings Gazette – 12/11/13
December 12, 2013
Categories: Beartooth Front Defense Fund
Oil well near Belfry approved; Red Lodge residents talk fears of Bakken-like atmosphere at town meeting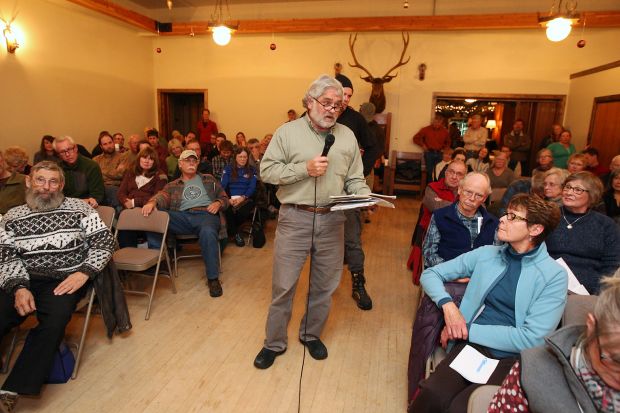 RED LODGE — Even before Red Lodge-area residents started their meeting Tuesday evening about expanded oil-and-gas development in their backyard, one permit to drill a well near Belfry was a done deal.
Opponents missed a step while requesting a hearing to protest the drilling permit application by Energy Corporation of America. So they lost their chance to challenge the permit Thursday before the Montana Board of Oil and Gas Conservation in Billings.
"The protest was defective, so the permit is still eligible for administrative approval," said administrator Tom Richmond. "The rules require me to issue the permit promptly."
Richmond said he expects to approve the permit by Friday so ECA of Denver can drill a wildcat horizontal well, perhaps with hydraulic fracking, three miles east of Belfry.
Deb Muth, chairman of the Carbon County Resource Council, said the group sent a letter and fax requesting a hearing, but learned Monday that it hadn't sent the required certificate of service.
"I've been told ECA can waive this requirement, but it has refused to do so," said Deb Muth. "That is why the board of oil and gas canceled the hearing on Thursday."
Opponents are holding a rally Wednesday at 12:30 p.m. at the Yellowstone County Courthouse in Billings. Then they plan on voicing their concerns at 2 p.m. on Wednesday at the oil and gas board's regular monthly meeting.
Meanwhile, more than 100 people attended a meeting at the Elks Lodge in Red Lodge on Tuesday evening to discuss ECA's plans to expand existing drilling on the east and west flanks of the Beartooth Front.
District manager Derrick Pottmeyer told the crowd that the Belfry well was experimental.
"It is completely exploratory in nature. The well may or may not be completed. That's unknown at this time," he said.
When ECA opened an office in Billings last fall, its founder and chief executive John Mork said he planned on drilling some 50 wells on the eastern and western flanks of the Beartooth Front.
Mork said he'd "love to bring something like the Bakken, maybe something a little more orderly than what is going on in Williston right now, to the area in the Big Horns and other areas in Montana."
But at the Red Lodge meeting, Pottmeyer and retired geologist Al Bloomer said the oil deposits and shale rock in the Belfry, Dean and Roscoe areas are tiny compared to the Bakken. Other wells have been dry or unproductive in this Belfry play, Bloomer said.
"There is no way that these two plays compare. No way," he said.
But during the question-and-answer session, Red Lodge attorney Kent Young said residents don't want hydraulic fracking — where water, sand and some chemicals are pumped at extreme high pressure underground to break up the shale and release gas and oil — in the Beartooths.
"It was your CEO who said he'd bring us the Bakken. Please go home and tell him we don't want it," Young said to Pottmeyer.
Pottmeyer said his company has been drilling around the Beartooths for three decades and that his 50-year-old company has a clean environmental record.
Even if there is no potential for another Bakken in Montana, other panelists said this is a wake-up call for Red Lodge to plan now for potential explosive development from any source.
Mary Johnson and her husband, Bob Johnson, live in Red Lodge now, but still farm north of Williston, N.D. She described what living in the heart of the Bakken is like, including having a six-well pad close to their farmhouse.
Dangerous traffic, crime, oil spills, crowded schools and overwhelmed emergency rooms from explosive growth are just some of the problems hitting western North Dakota, she said.
"Those rural North Dakota towns offered the best of rural America: safety, trust, predictability, but no more," she said.
Sidney city judge Greg Mohr echoed the need for community planning, saying his town now has the highest number of people earning $100,000 a year with no place to live.
"The EMTs won't go out on a call without an armed deputy going with them," he said, adding that Sidney now ranks fourth highest for DUIs in Montana.
And he said Sidney should be having meetings like Red Lodge is having to plan for more explosive growth.
This oil boom is likely to last awhile and the wealth isn't evenly distributed, he said.
"If you've got a piece of it, it's easier to digest. If you don't, it's hard to digest," Mohr said.
Copyright 2013 The Billings Gazette. All rights reserved. This material may not be published, broadcast, rewritten or redistributed.