Kickoff party for new Livingston affiliate is Thursday, June 26
June 24, 2014
Categories: Coal, Events, News, Northern Plains Resource Council
Yellowstone Bend Citizens Council
Kickoff Party
5:30 p.m.
Thursday, June 26
Elks Lodge
130 S. 2nd Street
Livingston
Cash bar, appetizers, music, raffle
By Northern Plains Resource Council
You're invited to a kickoff event for Northern Plains Resource Council's newest affiliate this Thursday at 5:30 p.m. Bring a friend or neighbor to the Livingston Elks Lodge. All are welcome.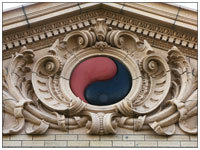 Evoking the golden age of railroading in Livingston, the old Northern Pacific Railway logo adorns the depot.
The event will feature live music by Frances Stewart, refreshments and appetizers, and a cash bar. Raffle items will include art from local artists, including Parks Reece prints, photography by Paul Dix, and a framed Doris Gallagher Davis piece.
Paul Hawks, who ranches in Melville and is a longtime Northern Plains member, will address the gathering about past successes of the organization, including the Good Neighbor Agreement with Stillwater Mining Company, and what the future holds. Other speakers will address issues related to coal export and oil-by-rail, and introduce the affiliate's plans. We hope everyone will bring questions and input on these important topics.
Issues the new grassroots, community organization will focus on are increased coal and oil trains through Livingston, and moving the community – and state – toward clean and renewable energy, such as wind, solar, and energy efficiency.
Yellowstone Bend Citizens Council (YBCC) is the 13th current affiliate of Billings-based Northern Plains Resource Council, which organizes Montana citizens to protect water quality, family farms and ranches, and unique quality of life.
YBCC invites anyone interested in energy development, rail traffic, and sustainability to come to Thursday's event.
For more information, call Joan Kresich at 406-222-5279, Bridget Bottoms at 805-729-1719, or Page Atcheson with Northern Plains Resource Council at 406-449-1256 or email page@northernplains.org.